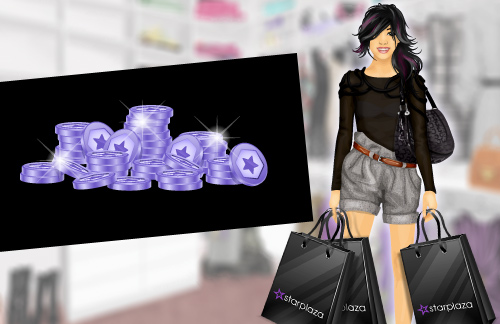 So Stardoll have introduced a thing called "Starcoins" which can be used to buy things if you are non-SS.
They have updated the play and earn so you can earn 40 "Starcoins" a day. You can save up to 1000...but there's a small catch. If you wish to spend your Stardollars, you have to, either, exchange them into "Starcoins" (and Stardoll takes 10% of them) or Upgrade to SS to re-use them.
I've also noticed another thing with the Starplaza. There is no longer a SS star to show that you need to be Superstar to buy something. There is just the difference between the "Starcoin" in purple and the "Stardollar" in gold.
Where things used to cost, say, 6 sd, they are now 60sc
So Stardoll have simply done this (n = number of SD)- n x 10
Easy or conniving?
This system seems quite similar to other sites. And I hate the idea that I can't use my Stardollars seeing as I was saving up!
This is what Stardoll have to say about it-
Now Stardoll has 2 currencies instead of only one!
More than 20 ways to earn rewards (only 5 before!)
You can save up to 1000 Starcoins, which means you can shop much…much more!
The fantastic Earn Starcoins rewards program will replace Play and Earn, offering you tons of ways to earn Starcoins—do the ones that sound fun!
Now everyone can recycle! And even more than 1 item per day!

More info:
The Starcoin is the new Stardoll currency and The Stardollar is the currency of Superstars.
Current Superstars: The Stardollar is your very own exclusive currency. Stardollars can be exchanged for Starcoins at any time.
Previous Superstars: You can exchange your Stardollars to Starcoins if you like, or keep them until you upgrade again to Superstar.
Non-Superstar members: Your Stardollars will be converted into Starcoins.
What do you think?
~Ess
xoxox